CCM is short for Computer Color Matching and is an automatic color matching system comprised of a spectrophotometer and a computer. It calculates a formula to get the same color as the target color from it's measurement results and, on the contrary, calculates a color developed by a formula automatically. This system is used for a batch correction or the quality control in the production department of the paint maker other than the formula calcutation of the exterior color such as cars.
There is a large variety of painting methods to color industrial products , for exampe, in the case of automobiles there are 2-coat, 3-coat, solid, candy-tone ,etc.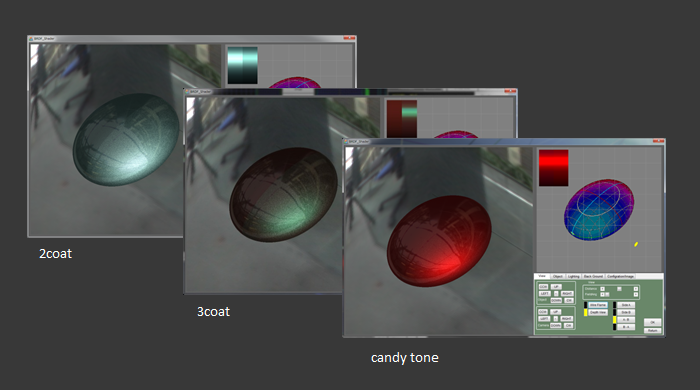 Our CCM system is developed for the porpose of color management of Metallic and Pearlescent Color frequently used as exterior color of automobiles. One of the characteristics of this system is comprised of a multiangle spectrophotometer, an image device and a computer to calculate the most suitable fomula based on both multiangle measurement results and image data. It supports eigh coating types including 2-coat, 3-coat, solid and each variation of those, this means that it can manage almost all coating used as an exterior color of automobile today.
Especially in the case of Metallic and Pearlescent Color, it is difficult to calculate a formula by one calculation. In such a case some correction calculation is necessary. Therefore 2 types of correction calculations are included in our system, one is for laboratory use and the other is batch correction for production site.Particulary, the batch correction function calculates the rational formula that can suppress waste such as color appearance materials and reducts the environment load as well as the cost.
Our CCM system classify color appearance materials in four categories described below, and calculate a formula by these combinations.
Absorption Pigment
Metallic Effect Pigment
Pearlescent Effect Pigment
Flop Control Agent
The color appearance materials classified in four categories are registered as data base.
Primary Detail Dialogs of Metallic Effect Pigment and Pearlescent Effect Pigment are shown in the figure on the left.Detailed data including the optica characteristic and image data of each color appearance material are registered.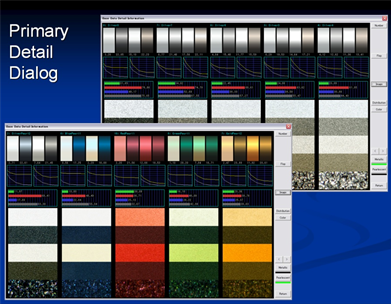 Data from multiangle spectrophotometer and image device are used to compute a formula and a correction calculation based on the primary data. The results are compiled into a data base and the registered data are reflected in CCM by a self-learning function after next time. It makes CCM correct and quick. In addition, this system can calculate a developed color from a formula in a direction opposite to calculating from the measurement results of the target color.